Lealholm
The attractive village of Lealholm is situated 9 miles west of Whitby. During the last ice age, a huge wall of ice moved across the landscape, and carved out the Esk Valley. At its head, a huge dam was formed. Over time, a river carved a ravine now known as 'Crunkly Ghyll'. This steep wooded ravine leads down to Lealholm.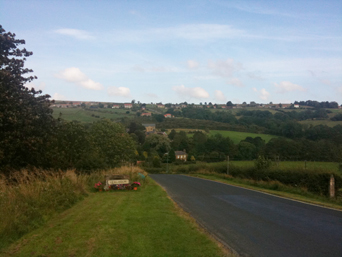 The Road to Lealholm Village
The hamlet of Lealholm is mentioned in the Doomsday Book of 1086. An important crossing point of the River Esk, this village became an early settlement and has a history dating back to the 1200s, including a paper mill in 1336. This unfortunately was demolished in 1709. A Quaker, Thomas Watson, built a new mill but that too is no longer in use. He donated land which is now the Quaker Friends Burial Ground. The main way of life for the population was farming, but at one time there were shoemakers, blacksmiths, a tailor and a wheelwright to mention a few.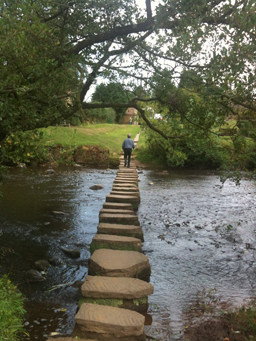 Lealholm Stepping Stones
There are three crossing points in Lealholm for the River Esk. The main stone bridge, a fording point and the famous stepping stones, near the Wesleyan chapel. Alongside the main road stone bridge, is the Board Inn public house and opposite there is the village green where quoits are regularly played. The river here is a popular place for children to play but care must be taken!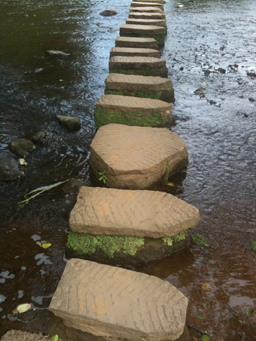 Lealholm Stepping Stones
There are two churches and a methodist chapel here, the Roman Catholic Our Lady of the Sacred heart, the Church of England St. James's Church and the Wesleyan chapel dated from 1839.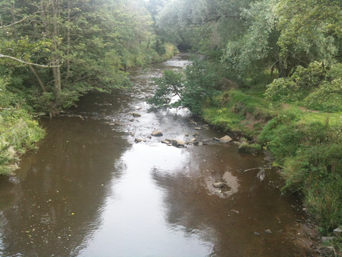 The Esk River Lealholm
Lealholm Station is on the Whitby to Middlesbrough Esk Valley line, the station is step free but it is accessible through a gate which may be a problem for wheelchair users.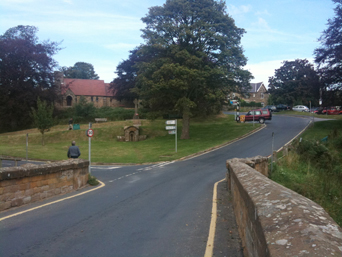 Lealholm
As well as the village pub, there are tea-rooms, a village store, a bakery, a farmstore and Lealholm Sevice petrol station. The Shepherds Hall restaurant has a carved inscription dated 1873 reading Loyal Order of Ancient Shepherds referring to a men-only lodge. The Poets Corner nursery is the former home of John Castillo (1792-1845) the 'Bard of the Dales'. There are a number of bed and breakfasts, and self-catering accommodation in the village.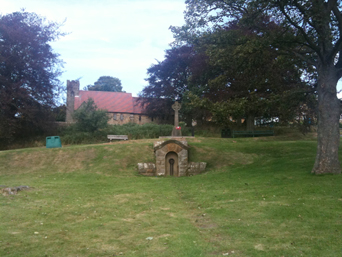 Lealholm
Lealholm Show, is an annual event held on the first Saturday in September. It is a farm produce, horticultural and agricultural show. One of the most memorable events is the Grand Duck race, where 1000 numbered yellow plastic ducks are deployed from the village stone bridge.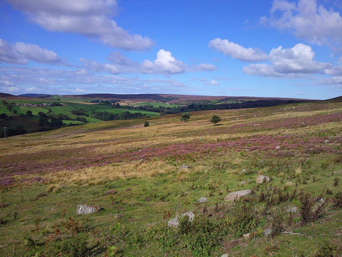 North Yorkshire Moors near Lealholm
Lealholm is a lovely village to walk through and enjoy, and if you happen to have some spare bread with you, the ducks of the village will be only too pleased to see you!!!!!!!!
Lealholm Map