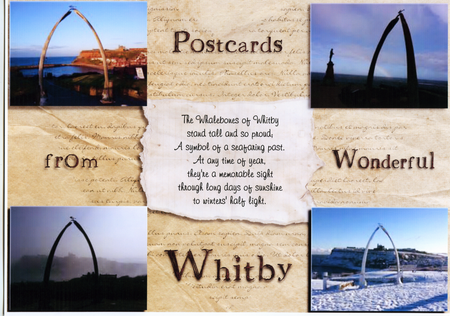 Whitby Whalebone Arch is an iconic symbol of Whitby Town as evidenced by the above postcard.   For years they have been a magnet for photographers.  Hoards of schoolchildren gather to stand underneath them and families over the years have photographs of Whitby with their children standing close by to the arch.
There has been a Whalebone arch since 1853 when the first ones were originally erected as at that time Whitby played an important role in the Whaling industry.   In 1963 the original bones were replaced by whalebones given as a gift by the Norwegian Shipping Company 'Thor Dahl'.  They had been sourced from a huge Fin whale killed in the Antarctic and stood at over nineteen feet high.
There they remained until March 2003 when they were deemed to be unsafe because of deterioration over time.  They were removed and placed in storage with the Whitby Archives. There the story would have ended but strangely enough, these particular whalebones have resurfaced on e-bay.  Apparently they were removed when Whitby Archives moved offices and were put into storage.  After the Whitby Gazette revealed the sale of the whalebones on e-bay, there was an outcry from many of the population of Whitby and they were hastily removed from the listings primarily the reason given was that e-bay were reluctant to be involved in the sale of endangered species and specifically animal matter!
Since then Scarborough Borough Council has offered to sell them and anyone interested in purchasing these iconic symbols should get in touch with them.  It would indeed be a shame if they were to be removed from Whitby Town as they are part and parcel of the heritage of this once great whaling town.
The present bones are from Alaska and stand proudly at the top of the Khyber Pass, a testament to the whaling industry and a great draw for the tourist.